Why Use Nomad
Nomad is the right choice for your local removal or your international relocation. We offer a first-class service from an experienced team who genuinely care, backed up by our outstanding reputation.
Key Benefits:
Superb moving services
We always do everything we can to make each move a smooth and happy one for our clients. With our experienced packing teams, high quality packaging and crating materials, and outstanding Move Managers, you know that your move is in safe hands.
We care
This is actually the most important thing of all.  We really care about doing a good job.  Qualifications are one thing, but far more important is the attitude of the team who will actually be in your home, handling your furniture.  The demeanor of the management and planning team who are always on the end of the phone if you need us.  The effort that we all put in to making sure each and every client is happy with everything about their move.  All of this translates into a much more personal service, and a higher standard of care.
Financial security
Nomad is covered by the BAR's unique Advance Payment Guarantee for moves within UK and worldwide.  This system is in place to ensure that if a BAR member goes bankrupt while your goods are in transit, your payment is protected.  The BAR will also help to arrange another removal company to take over the job and complete it for you.  If a non-BAR member company goes bust while your goods are in transit, there is nothing you can do.
This peace of mind is very important in the current economic climate, with the post-COVID recession likely to cause economic strain on a lot of companies. At least with Nomad you are protected.
Experience and quality
We are members of the British Association of Removers – the UK removal industry's gold standard trade association.  We also hold British Standard BS 8564 in Overseas Moving Services.  It is not easy to attain either of these qualifications and we are audited every year to ensure that we are maintaining very high standards, so you can have confidence that we will do a good job for you.
Value for money
Using Nomad for your removal is a smart choice. For the quality of service we offer, our prices are very reasonable – we are certainly not the most expensive movers in the area.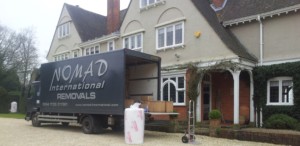 Naturally there are always "cheap" options for removals, like using an unregistered company or a man-with-a-van or doing the move yourself.  But the peace of mind that comes with hiring a professional BAR-registered moving company, knowing that we will handle everything with care and we won't let you down – this is worth a lot in itself.
Whether you're moving delicate equipment worth almost three quarters of a million pounds (like the clients in the photo at the top), or moving just one sofa and a couple of boxes, we will treat you with the same respect and care.
We love challenges
We specialise in international relocations, particularly to remote islands, but we move people all over the world.  International moving comes with a lot more variables than local moves, and we've seen it all over the last 16 years.  This gives us supreme confidence that we can handle anything you would like us to do.
Delivery to a distant location, or maybe a nearby location but with difficult access?  No problem.  External lift (or crane) required to move a concert grand piano in through a 5th storey window?  Absolutely fine.  Removal to an island so remote that vehicles are not allowed, so delivery has to be made by donkey?  Yes, we've done that before too.  Shipping a piece of fine art and need a purpose-built crate for it?  Not a problem, we've built (and moved) hundreds of them.  Nervous buyer somewhere in your chain making you concerned about a delay on "completion" day?  Don't worry, we can plan for this too.
If you're moving locally there can still be a lot of challenges – moving is one of the most stressful times in your life.  We appreciate this, and we do everything we can to make the entire process smooth and stress-free for you.  And if there is something complicated or a bit more difficult, just ask us!  We will be happy to help.
Storage
If you need storage during your removal (or at any other time), we can help with that too.  At our secure warehouse in Peterborough we can store everything for you safely and cost-effectively.
We offer some quite innovative storage solutions and great prices – see our Storage page to find out more.
Recommendations
We are lucky to have a fantastic team, most of whom have been with us for many years. Many of our wonderful clients have written unsolicited recommendations for our moving services over the years. Please see our Testimonials page for examples.  Even more can be found on our Facebook Page, on Google and on our other websites (such as our specialist site about our removals in Greece and the Mediterranean).  We really appreciate the fact that so many of our clients have taken the time to recommend us.