Moving Overseas
International shipping to anywhere in the world
Nomad International are the experts at international removals. With more than 16 years' experience in international moving, membership of the BAR and British Standard BS8564 in Overseas Moving under our belt, we are the best choice for your international relocation.
Whether you're moving to the United States, Canada, the Middle East, Africa, India, Asia, New Zealand or anywhere in Europe, Nomad International will handle your removal with care and attention to detail. We specialise in Greece and Australia but we regularly move people all over the world, from Mexico to South Africa, so we can certainly help you with your move.
Packing for your international move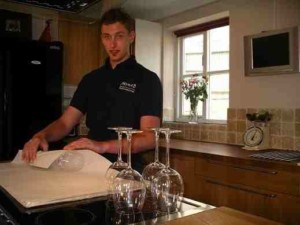 One of the first differences you will notice when planning an international move compared to moving in the UK is the attention we pay to packing. For overseas removals the gold standard approach is to export wrap all furniture and appliances using special protective products like Furniguard and Furnisoft. Fragile items like china, glassware and ornaments have to be specially packed for the journey also. Some items may even need to be crated for transport, to provide extra protection.
Our professional team will be able to do all of the packing, wrapping (and crating if necessary) for your international move. We will plan everything in advance and bring all of the required materials on move day. In some cases we may recommend a "pre-pack day" in order to allow us some extra time for larger quantities of packing. With our team doing all of the packing for you, the process is a lot easier and it also helps from an insurance point of view, as there will not be the same insurance restrictions if your belongings are all professionally packed.
Some of our customers prefer to do their own packing, and this is no problem either. The same attention to detail on packing is required, and we can provide any advice you need, just ask! We can even show you some videos we made a while ago on our other site, teaching export wrapping and packing techniques. If you would like to buy packing boxes and packaging materials we are happy to help, with a full range of high quality moving boxes and packaging products for sale at reasonable prices for our customers.
Our international network
No single removal company can cover the entire world themselves, so professional movers cooperate to provide a seamless service to our clients. As members of the British Association of Removers we are considered amongst the most professional movers in the UK, and we have access to partners with the same credentials in other countries. So when you are moving to Australia or Canada or the USA, for example, our trusted partners will receive your shipment and handle everything with the care and attention to detail that we demand from them. We will manage the entire process and ensure that your removal is conducted professionally and without stress, from door-to-door.
Road, air and sea
We will conduct your removal by the most appropriate and cost-effective method available, whether this be by road (for many European destinations), by air freight (for smaller consignments to other continents) or by sea container shipping. Sometimes a combination of methods can be used to meet specific time and cost requirements. Just give us a call to discuss your needs, we will be happy to help.
Taking the stress out of moving
We pride ourselves on our outstanding customer service, which is something many of our clients have mentioned in their testimonials and reviews. No matter where in the world you are moving to, your personal move manager at Nomad will be your point of contact for the whole move, from door-to-door.
Get a free quote for your international relocation
Where are you moving to?
The last time the UK government analysed the locations of British expats was in 2006 when the Institute for Public Policy Research (IPPR) published a report called "Brits Abroad". This showed that Australia has by far the greatest number of British expats, followed by Spain, the United States and Canada.
These data preceded the global economic meltdown in 2008, following which it was reported that a significant proportion of Brits in Spain left the country due to the property crash, so the figures for Spain may be lessened. It is also unclear, for example, what effect the Brexit debate has had on emigration from the UK. But the data does provide a good general insight into where the roughly 5 million British citizens who live overseas have chosen to live.
| | | |
| --- | --- | --- |
| Rank | Country | British expat residents (2006) |
| 1 | Australia | 1,300,000 |
| 2 | Spain | 761,000 |
| 3 | United States | 678,000 |
| 4 | Canada | 603,000 |
| 5 | Ireland | 291,000 |
| 6 | New Zealand | 215,000 |
| 7 | South Africa | 212,000 |
| 8 | France | 200,000 |
| 9 | Germany | 115,000 |
| 10 | Portugal | 60,000 |
| 11 | Cyprus | 59,000 |
| 12 | UAE | 55,000 |
| 13 | Pakistan | 47,000 |
| 14 | Singapore | 45,000 |
| 15 | Switzerland | 45,000 |
| 16 | Israel | 44,000 |
| 17 | Netherlands | 44,000 |
| 18 | Thailand | 41,000 |
| 19 | China (incl. Hong Kong) | 36,000 |
| 20 | Turkey | 34,000 |
| 21 | India | 32,000 |
| 22 | Kenya | 29,000 |
| 23 | Belgium | 28,000 |
| 24 | Barbados | 27,000 |
| 25 | Saudi Arabia | 26,000 |
| 26 | Italy | 26,000 |
| 27 | Jamaica | 25,000 |
| 28 | Japan | 23,000 |
| 29 | Sweden | 18,000 |
| 30 | Greece | 18,000 |
| 31 | Nigeria | 16,000 |
| 32 | Norway | 15,000 |
| 33 | Egypt | 14,000 |
| 34 | Philippines | 14,000 |
| 35 | Malaysia | 13,000 |
| 36 | Trinidad and Tobago | 11,000 |
| 37 | Brazil | 11,000 |
| 38 | Bahrain | 11,000 |
| 39 | Gaza & West Bank | 11,000 |
| 40 | Indonesia | 11,000 |
| 41 | Denmark | 11,000 |
| 42 | Bangladesh | 9,200 |
| 43 | Malta | 9,000 |
| 44 | Mexico | 8,500 |
| 45 | Austria | 8,500 |
| 46 | Argentina | 8,300 |
| 47 | Qatar | 8,100 |
| 48 | Oman | 7,800 |
| 49 | Malawi | 7,400 |
| 50 | Venezuela | 7,200 |
| 51 | Jordan | 7,200 |
| 52 | Kuwait | 7,100 |
| 53 | Czech Republic | 6,800 |
| 54 | Brunei | 6,400 |
| 55 | Macao | 6,300 |
| 56 | Zimbabwe | 6,100 |
| 57 | Russia | 6,100 |
| 58 | Ghana | 5,900 |
| 59 | Zambia | 5,800 |
| 60 | Poland | 5,600 |
| 61 | Tanzania | 5,500 |
| 62 | Luxembourg | 5,500 |
| 63 | Chile | 5,200 |
| 64 | Hungary | 5,200 |
| 65 | Botswana | 5,000 |
| 66 | Costa Rica | 4,800 |
| 67 | Peru | 4,600 |
| 68 | Romania | 4,500 |
| 69 | Sri Lanka | 4,400 |
| 70 | Bahamas | 4,100 |
| 71 | Vietnam | 3,800 |
| 72 | Colombia | 3,600 |
| 73 | Libya | 3,600 |
| 74 | Gibraltar | 3,600 |
| 75 | Yemen | 3,400 |
| 76 | South Korea | 3,400 |
| 77 | Iran | 2,900 |
| 78 | Antigua/Barbuda | 2,800 |
| 79 | Finland | 2,800 |
| 80 | Nepal | 2,700 |
| 81 | Grenada | 2,500 |
| 82 | Uganda | 2,500 |
| 83 | Ecuador | 2,400 |
| 84 | Morocco | 2,400 |
| 85 | Azerbaijan | 2,400 |
| 86 | Swaziland | 2,300 |
| 87 | Guyana | 2,200 |
| 88 | Lebanon | 2,200 |
| 89 | Syria | 2,200 |
| 90 | Belize | 2,000 |
| 91 | Sierra Leone | 2,000 |
| 92 | Iraq | 2,000 |
| 93 | Guatemala | 1,900 |
| 94 | Dominica | 1,800 |
| 95 | Netherlands Antilles | 1,800 |
| 96 | Seychelles | 1,800 |
| 97 | Namibia | 1,700 |
| 98 | Mauritania | 1,600 |
| 99 | Serbia-Montenegro | 1,600 |
| 100 | St Lucia | 1,500 |